System Application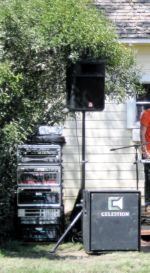 The sound reinforcement system offered by Boulder Sound Guy is a "small" but powerful and sophisticated system. It is able to deliver concert level sound in venues of 100 to 300 people. Good clarity at less volume is possible in bigger spaces. In hard numbers, the system can clearly project at least 100dBA SPL to the back of a typical 300 person room.
General Description

Boulder Sound Guy offers a sixteen channel system. The main speaker system is bi-amplified via a digital speaker processor. The processor feeds two stereo amplifiers, one for the subwoofers and one for the mid-high speakers. Depending on the configuration the total output of the main amps is either 2600 or 3750 watts. An additional amplifier and speakers are available for coverage of wide audience areas.
Monitors
Monitors can be mixed from the main mixing board if two mixes are adequate. A split snake and separate board are available to provide four mixes. The monitor board can be placed near stage or by the main board. Each of the four mixes has a dedicated channel of digital eq. Four amplifier channels of 270@8ohm/400@4ohm power up to six wedges (eight soon) for a maximum total of 1600W on stage.
Recording

Multi-track recording capability is built into the system. It is pre-wired to capture all inputs from stage plus the main mix and a stereo room mic. Recording can be scaled from just a stereo board feed, to the board feed plus the stereo mic, to a full multi-track recording. If you have your own recorder there's a place to plug that in, too. Live Recording has more info.
Gear List
Microphones

Shure SM58 (x4)
Shure Beta57
Audix Fusion 6 drum mic kit
AKG C1000S
AKG D1000E (x2)
Audio-Technica Pro25
Audio-Technica AT21 (x2)
D.I.s

Live Wire Solutions ADI
Whirlwind Director
DOD 265

Front of House

Mixer - Mackie 1604VLZ Pro
Power & lights - Juice Goose
Main graphic eq - Rane Mojo MQ-302
Effects
Compressors

Presonus ACP-88
dbx Project1 266
dbx 166
dbx 166a (x2)

Utility mixer - Midiman Fineline
Recorder - Alesis HD24
Playback - Gemini CD player

Main Speaker System

Processor
Amplifiers

QSC PLX3002 - 900Wx2 @ 4ohm - Mid-high (Mains)
Stewart World 1.2 - 1200W bridged @ 4ohm - Mid-high (Fills)
Crown CE2000 - 1950W bridged @ 4ohm - Low

Speakers

Mains - Peavey Impulse 200 - 12" 2-way 4ohm (x2)
Fills - Peavey Impulse 200 - 12" 2-way 8ohm (x2)
Subs - Celestion SR2 - single-18" bandpass 8ohm (x2)

Monitors

Split snake, 16 channels
Monitor mixer - Mackie 1604VLZ Pro
Processing - Behringer DSP1100P, DSP1124P
Amplifiers

Peavey 8.5c - 270W/ch@8ohm, 400W/ch@4ohm (x2)
Mackie M-800 - 550W bridged @ 8ohm

Yamaha SM15IV (x2)
Yamaha SM10H - Eminence Beta loaded (x4)
Sunn 12" (x2)
15" (x2)
Grund Audio GT-1090M